PROJECT BASIC DATA
Title:…………………….. Sanitation Improvement
Location: ……………      Tibetan Nehru Memorial Foundation School
Project Period: ………       3 months from receipt of grant)
Target group: ………..      170 students plus 28 staff
Total budget: …………    INR 400,000
Executing officer: Mr Tsering Phuntsok, Director, TNMF School
Mrs Nivedita Kakkar, Principal,TNMF School
Mr Phuntsok Topden, TNMF Office
Implementing office:      Tibetan Nehru Memorial Foundation School
Introduction:
Tibetan Nehru Memorial Foundation School:
Tibetan Nehru Memorial Foundation School is situated in the Tibetan Colony at Clement Town, Dehra Dun, (UK). The school was established around in 1965 with the aim of helping Tibetan refugee children in this colony to get a modern education in a conducive Tibetan environment. Today it is a senior secondary school affiliated with the Central Board of Secondary Education, New Delhi. This School is administrated by Tibetan Nehru Memorial Foundation under the leadership of Ven.DG Khochhen Rinpoche.
Children from the Tibetan settlement here plus those neighboring Indian community attend this school.  Currently we have about 170 students. Compared to other Tibetan schools in exile, this school has very limited resources for developmental projects.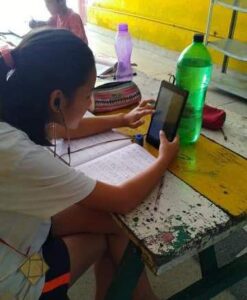 Problem statement: Why the project is needed/important for the school?
At present, our toilets do not meet the required sanitation standards.  To begin with, we don't have a proper flushing system. The children have to fetch water from an outside source and manually try to flush the toilets after use. The lack of an efficient flushing system results in bad smell in the whole toilet area.  This outdated and unsatisfactory system is inviting disease and impacts the health of the children.
The existing plumbing is badly outdated in need of repairs. Water pipelines leak at multiple places, most of the existing taps are no longer working, toilet doors don't close properly, windows are broken and the plastering of walls of are peeling away. There is dampness, mold and mildew. The present complex was built in 2002 and because of lack of funds, no major repairs have been undertaken since then. Today there is an urgent need to remodel and repair this toilet complex that serves over 170 students plus staff.
Objectives
Total remodeling of the toilet complex with modern facilities including proper ventilation, having separate toilets for girls, boys and staff, separate urinal cisterns, had washing areas, tiled flooring of toilets and bathrooms. All this will ensure good sanitation and improved health of children and staff of this school.
PROJECT RESULTS:
Project Outcomes:
This  project  will provide a clean and sanitary toilet facilities.
Project Outputs:
170 students plus staff of  school will have access to clean and sanitary toilets.
Project procedure:
The main activities to be carried out are:
Project Implementation and monitoring by staff in charge:
Evaluation by estate and accounts
Submission of completion report by the School
PROJECT MANAGEMENT
Monitoring and Evaluation:
The school management team with its staff in-charge and accounts section from time to time will monitor and evaluate the overall impact of the project. The project coordinator will prepare and submit the timely project reports.
Project Completion Report:
The project head will submit the project completion report with pictures that clearly show the changes in the toilet facilities before and after this project.
BUDGET ESTIMATES:
No. Particulars                                                                  Amount  (INR)
Cost of all material                                                             00
Cost of labor                                                                                     00
Total Amount: INR       400000.00
Conclusion:
This project is submitted with much hope based on a real pressing need faced by students. I understand that your administration may have follow up concerns and questions. I am happy to answer all questions and look forward to hearing back.
Tsering Phuntsok
Director
Tibetan Nehru Memorial Foundation School
Date of Submission: 16th April 2022